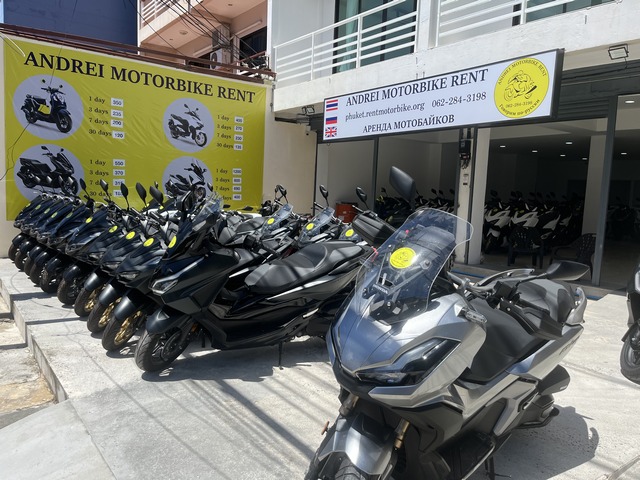 23.10.2023
Renting a scooter in Phuket: details about the pros and cons, driving features, choosing a rental company
Renting a scooter in Phuket: details about the pros and cons, driving features, choosing a rental company
Everything about renting a bike in Phuket: how to avoid mistakes and enjoy your trips
Are you dreaming of an unforgettable vacation in the paradise of Phuket? Do you want to enjoy freedom of movement around the picturesque island and see all its beauty? Then renting a motorcycle or bike is exactly what you need!
But it's worth considering some nuances to make your trip as comfortable and safe as possible. In this article, we will take a detailed look at all the pros and cons of renting a motorbike in Phuket, talk about the peculiarities of driving and give valuable advice on choosing a trusted rental company.
Advantages of renting a bike on the island
Why is a bike the ideal option for exploring Phuket?
High mobility and freedom
With a rented bike, you can plan your route yourself and move at a pace that suits you. Forget about depending on public transport schedules and waiting for a taxi. Now you are the master of your journey!
Affordable price
The average cost of renting a bike in Phuket with our company is from 400 baht per day. This is significantly cheaper than taxis or group tours. At the same time, you also save on gasoline - the fuel consumption of bikes is low.
Possibility to get to anywhere on the island
With your rental vehicle, you can easily reach some of Phuket's most picturesque beaches, hidden coves, and interesting attractions, many of which are located in hard-to-reach areas.
Unforgettable impressions
Imagine driving leisurely along a winding coastal road, admiring the sea views. Renting a bike will allow you to plunge into the unique atmosphere of the island and get a lot of bright emotions!
Renting a scooter makes it easy to get to anywhere on the island. The main thing is to obey the speed limit and be careful when turning.
Features of driving in Phuket
You need to be prepared for certain difficulties:
Heavy traffic. The roads in Phuket are busy and the driving style of the locals is quite chaotic. The bike driver will have to be extremely careful.
Specifics of traffic rules. In Thailand, driving is on the left, and there are also some traffic rules that are unusual for Europeans. It is better to study local peculiarities in advance.
Varied road conditions. Road surfaces on the island may be patchy. There may be areas without asphalt. You need to choose the optimal pace and carefully look under the wheels.
Hot and humid climate. In conditions of high temperature and humidity, riding a bike requires good physical preparation. Don't overestimate your strength!
Renting a bike in Phuket gives you freedom of movement and the opportunity to admire the beauty of the island. But be careful on the roads and follow the rules.
How to choose a reliable rental company
The pleasure of traveling around Phuket largely depends on the reliability of the company from which you rent a bike in Phuket. Therefore, choose it responsibly. Below are detailed tips on how not to make mistakes.
Carefully read reviews on the Internet
Reviews from tourists on social networks, forums and review sites are an important source of information. Pay attention to reviews from the last 1-2 years. Companies change, so current responses will show the real picture.
Focus on rentals with the largest number of positive reviews. Notice how quickly the company responded to the negativity. Carefully review several rental options.
Renting a scooter in Phuket allows you to easily overcome traffic jams and quickly move between popular tourist sites.
Check the insurance conditions
Be sure to find out the amount of insurance coverage for accidents and breakdowns. Some companies may have low compensation limits. It is better to choose a rental with full insurance.
Check the technical condition of the bikes.
Don't rent old bikes, they can cause a lot of problems. By the way, in our rental on the island of Phuket, only new scooters.
Inspect the bike before renting, check the serviceability of the brakes, lighting, and engine. Make sure the tires are in good condition with tread. Discard if you notice cracks or chips.
Find out the terms of return and repair
Be clear about the procedure and payment for repairs in the event of a breakdown on the road. Unreliable companies may issue inflated bills. Choose rentals with transparent conditions.
Compare rental prices
Compare prices for a similar type of bike from different companies. Guideline - 400 baht per day. A lower price may be a signal of unreliable rental or poor condition of equipment.
By choosing a reliable rental company, you will save yourself from many risks and will be able to enjoy your trips around picturesque Phuket! Have a nice trip!
We have been renting bikes in Thailand for more than 10 years and know all the intricacies and nuances of renting scooters.
You can get acquainted with the prices for scooter rental and book a bike in our company using the
link
on our website